What do you Really Want? Can you define your Dream?
You may know this from personal experience often you think to know exactly what you want to accomplish in your life.
The problem is that basically you just have an idea of what you do not want in life. For example, you want to have no debt, no dispute in the family or partnership, no problems you can not solve, no boring job and good health.
Things that probably everyone wants, basically we just have an idea of what we do not want in life.
We may manage to have no debt – but this also may mean that we do not have a lot of money to spend.
Although we have no real dispute – but our situation may not be harmonious. We may not have any large and complex problems, but a lot of small ones. Also, our job may be never boring, but often very stressful, from today's perspective.
We try to eat healthy food and do exercise. But still, we only reached a goal.
But are we happy? No, often quite the contrary. It can feel like we are no more than a sheet that can be blown away by a small gust of wind.
Why is this so? Because we do not know what we really want. We are not really aware that in truth we have a desire to live a life in harmony, prosperity, health, and love. And in truth, we as human beings are looking for exactly these things.
The knowledge alone that you can actually look for love, harmony, prosperity, and health and how to get it is not enough.
To succeed, you need to know exactly in which direction you want to go. Most people go through life without a real plan.
One day follows another, often it is only about making somehow ends meet. This is terribly bad because this must not be.
But here's the whole point. If you do not know what you really want and how exactly your life should look like, then you do not get anything out of life that you might want, or worse, others will decide for you. Do you really want that?
I can not emphasize this enough: It's always the perfect time to change something in life. And if you think it is too late or you're stuck too deep in your situation, you can at least improve it step by step.
Maybe you do not succeed immediately, but you can at least begin.
What do you really want in your life?
There are questions that need to be answered. What is life about for you?  What about wealth? How much do you need to be happy?
Or if you had now a huge sum of money available, what would you do with it? What about your health?
Make up your mind and think about.
Wallace Wattles: "You will never do great things in the external world until you think great things in the internal world"- inThe Science of Being Great
What do you really want, what makes you feel more alive, what is your desire, what would you like to be, create and give?
A dream is not a real dream if you know exactly how to get there. Therefore, a dream makes you stretch and grow and brings you out of the comfort zone.
A dream sets you on fire makes you excited.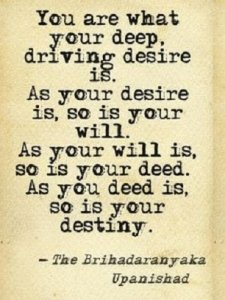 Can you remember the dreams you had as a child and how you really felt like it is real in your imagination?
Later, in school or at home we were told not to do this and get real. But this is what we need to do to build our dream. Now we have to learn this again.
We all are able to do great things. It is said: If we can see it in our mind we can hold it in our hands.
It is necessary to make the right decisions in life. Decisions that sometimes do not meet all the standards and conventions.
Dreams are often not understandable for people around you and they may discourage you. Don't let them.
Only for those who are willing to take unusual steps, extraordinary results can be expected!
Stand up for yourself and think what do you really want – define your dream.
Do you have a dream?
Think of do you know what you really want?
Do you remember a dream you had as a child?
Please leave a comment.
Thank you